Lighthouse Foundation provides homes and therapeutic care programs to children and young people impacted by long-term neglect, abuse and homelessness. Our focus is to create caring communities where kids can feel safe, form meaningful relationships and begin to heal from traumatic experiences. For the past 30 years, our proven Model of Care has successfully transformed the lives of over 1,000 young people using a range of evidence-based strategies. We now educate and support foster carers in the same way, so that they too can take care of some of Australia's most vulnerable children.
Our Vision 
A safe home and community for homeless kids to belong, heal and thrive.
Our Mission
We provide therapeutic homes and create a caring community for homeless kids and foster families. Through the Lighthouse Model of Care our kids receive the level of support required to achieve a lifelong sense of belonging, the opportunity to heal and the capacity to thrive.
Our Values
We are respectful, kind, courageous, thoughtful and committed.
Our Lighthouse Logo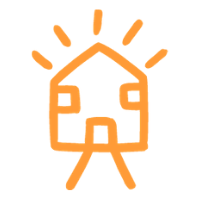 Our logo has a very special meaning for Lighthouse Foundation as it signifies a house of light in which all children can feel loved, safe and supported. The child-like illustration was designed by the late artist David Band in 1996, with each element of the home representing a child's journey in our care. The pathway to the home is to give a guideline to those in darkness, seeking safety and care, with our door always open to welcome them. The windows show that we keep watch over our society and of our children, with the shining beams radiating from the roof representing the positive life-changing outcomes of our programs, as our young people transition to happy adult lives.